The Crossbow Girl – Innocence Explained
Getting the Fear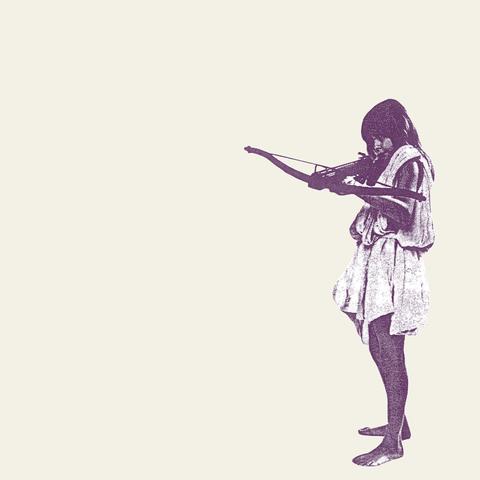 JUNE 18 sees the release of Getting the Fear's debut album on DAIS records, more than 30 years after we parted ways…
At the time, we'd locked horns with the 'men in suits' at our record company (RCA) and couldn't reach a compromise or see a way out other than breaking up the band. So, we made a quick exit and took 'the suits' to the cleaners on the way out… ka-ching! You can read the full story in the sleeve notes when you buy the LP.
When Dais asked for images for the LP, which will be released this month, I stumbled across some old shots that I had taken of a young girl with a crossbow that Getting the Fear used for T-Shirts and posters. It wasn't until I received copies of the finished albums that I suddenly remembered that she was wearing one of my old dresses.
Before we get into the dress, there's a question we were often asked that I'd like to address:
Why did Getting the Fear use the disturbing image of a very young child with a dangerous weapon?
In the early 1980s, the Iran–Iraq War was raging and headlines were heavy with stories that Iran was using child soldiers to clear barbed wire and minefields with their bodies. Wearing headbands with the words Warriors of God in Farsi, they carried small metal keys that the Ayatollah promised were their tickets to Paradise if they were martyred in their mission. Meanwhile, closer to home in Northern Ireland children were being killed by soldiers shooting plastic or rubber bullets. We hoped that the shocking image of a young white girl would start a dialogue, and raise awareness about alarming events that were taking place.
We also wanted the image to have a timeless quality to drive home the fact that 'those who forget their past are condemned to repeat it'. Hence the crossbow and having the girl dressed in a Roman toga.
So, about that dress…
Before I started working with Getting the fear, I'd been working on a project with BBC playwright Dixie Williams and David Claridge (Skin 2, Mobile Suit, Roland Rat). We were working on a play based on the diaries of the Roman courtier Petronius, who wrote Satyricon, a satirical novel believed to have been written around 54–68 AD.
I was playing the role of Giton, a sixteen-year-old boy slave. The costumes, mostly togas, which were designed by Leslie Claridge became a line for her 'In Arcadia' clothing brand. Tragically before the production was finalized, Dixie a sweet but crazy character sank into a pit of depression after his wife left him. He ended up breaking into her new apartment while she was away, took an overdose of pills and booze, and died on her bed. At the time, we surmised that he'd been using the script to deal with his demons, so as a mark of respect decided to let it rest with him.
However, the dress lived on. I took to wearing it for interviews with Japanese magazines, out to London clubs and when we need a dress for the Getting the Fear girl…well it was obvious.
DEATH IS BIGGER by GETTING THE FEAR
PREORDER – Release Date: June 18, 2021
Formats:
Purple/Clear Splatter Vinyl LP | 200 edition
Bone White Vinyl LP | 400 edition
Clear Purple Vinyl LP | 600 edition
Clear Vinyl LP | 800 edition
Black Vinyl LP
PREORDER DEATH IS BIGGER by Getting the Fear now:
USA: https://www.daisrecords.com/collections/releases/products/getting-the-fear-death-is-bigger-1984-85
UK:
https://www.roughtrade.com/gb/getting-the-fear/death-is-bigger-1984-1985
https://www.normanrecords.com/records/186735-getting-the-fear-death-is-bigger-19841985?gclid=Cj0KCQjw9_mDBhCGARIsAN3PaFNVglqfw-iaEARqUYpRZII0uiTzPSokIwBkA2XYO14jGTNePqq6oCIaAt74EALw_wcB